I have so much catching up to do! I can't believe it's been so long since we posted here on my blog! Hope you guys are all well?
Well, to start with - I am in the best of health and enjoying life to the fullest. We have been so busy lately, holidaying with the caravan and Mum has been doing her pastel pet portraits too. She is nearly booked up for Christmas so if you still want a portrait, hop over quick to Mums' blog - Genista Pawtraits - she only has a few spaces left.
The winners of Mums' Pastel Pet Portrait Give-A-Way back in August (sorry for not updating sooner) were:
Martha and Bailey
Visit Martha & Baileys blog HERE
Well we have had Halloween' and Bonfire Night already and we are fast heading towards Christmas. I love Christmas! Can't wait for my treats and presents. I have already sniffed a few out in Mums' wardrobe, she doesn't know mind you.
Every year I get "Crazy Critters" Stuffing-Free Dog Toys - a FOX and a RACCOON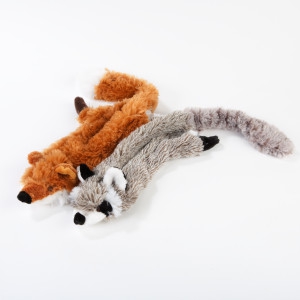 It usually takes me a few months to rip them to shreds bol. They do have squeakers, so Mum has to watch out for them or I'll swallow them, but she usually cuts them out when I'm getting close to them. (They are in the wardrobe ssshhhh!!!).
It's raining outside, as usual this time of the year. I don't mind the rain - I love it in fact BUT Mum doesn't like me getting wet when its cold so I might have to wait till later for my walk. I'll have the hairdryer on me when I get back - I love that, it's lovely and warm and warms my bones when I get back in from the cold. The house is lovely and warm anyway but Mum doesn't take any chances with my hip dysplasia.
We have had a muiltifuel burner put in the lounge now - it's lovely! Soooo warm and cosy. Some photos of me toasting myself in front of it coming soon. I always bag the spot right in front! I'm not daft...
Well I'm off for a feed and a toast in front of the fire. Catch ya all later!